October 19th, 2006 by William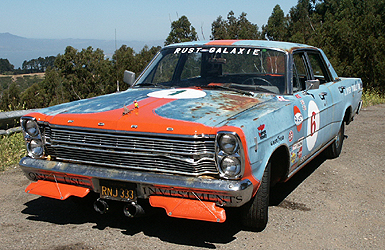 Photo by Jeff Glenn
In the summer of 2004, my good friend Nick Pon and I purchased a 1966 Ford Galaxie 500. It wasn't just any old Ford. This Galaxie had been specially built for vintage rally competition. Starting out as rusting heap, the car was meticulously transformed by Jeff Glenn into a high-performance racing machine using only the finest parts available. Truly Top Notch! Together, Nick and I campaigned the car in the 2004 California Melee, an 800 mile vintage rally that test both driver's skill and vehicle endurance. The car ran like a train. With a 352 V8 and a Ford-O-Matic transmission, we were able to achieve tremendous top speeds, and do it in comfort and style.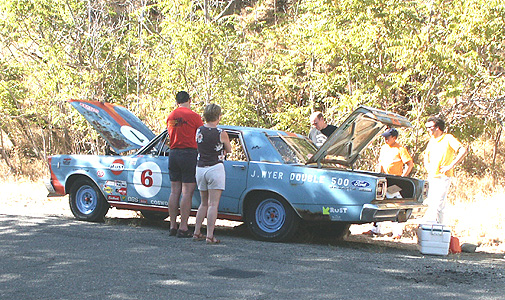 Photo by Jeff Glenn
During one particularly tricky stretch of winding canyon road, I was behind the wheel and felt nature's call in a big way. With two vehicles in pursuit I felt the best course of action would be to pull over and let them get by while I quickly relieved myself. Nick concurred with this strategy, and as soon as the broken one lane road allowed, I pulled the Galaxie off to one side. Still maintaining a bit of speed, I looked in the side-view mirror to make sure the cars behind us had enough room to get by. With my attention focused behind us I failed to see a basketball sized rock straight ahead of the mighty Galaxie. Nick, like a deer in the headlights, saw the massive geological anomaly all too well. He managed to let out a slight warning yell before impact but it was too late. With a mighty crash the right side of the Galaxie was lifted into the air, and came crashing down under the weight of several tons of rusted steel, grinding to a halt. I was horrified. I thought the car was a total loss and the event was over for us.
Nick sheepishly looked underneath the car to see our side-pipe exhaust completely crushed.
Amazingly that was the only damage that the car incurred. After bending up a coat-hanger to old the limp exhaust pipe we were back on our way and finished the rest of the grueling 800 miles without incident.
This Galaxie really was built Ford Tough.
-Bill Mertz

Melee, rally, Ford, Galaxie, 1966, V8